Can Solar Get Even Cheaper?
April 15, 2021
The plummeting price of electricity from solar panels is one of the driving forces aiding the transition to clean energy.

Government policies and scientific innovation around the world have helped to reduce the average cost of utility-scale solar power by more than 80 percent since 2010, making it the least expensive power source in many, if not most, places.

Now the Department of Energy has set a target of reducing the cost by more than half again by 2030, to an unsubsidized average of 2 cents per kilowatt-hour. That cost, which takes into account the price of construction and operation, would have seemed like a fantasy not long ago.

By taking the least expensive power source and making it much cheaper, the government would shake the foundation of many energy debates and help to hasten the transition away from fossil fuels.

But is the new goal achievable? To answer that, I went to Greg Nemet, a University of Wisconsin public affairs professor whose 2019 book, How Solar Energy Became Cheap, tells the story of how we got to this point.

"This really is an ambitious goal," he said. "We might not meet it because it's that ambitious."

But the decision to prioritize this goal is a good one, even if success is not a forgone conclusion, he said.

For some perspective, the International Renewable Energy Agency listed 2 cents per kilowatt-hour by 2030 as the very lowest end of a range of possibilities in a 2019 report.

Nemet said it's important to note, when talking about average prices, that the actual price would be lower in sunnier regions and higher in those that get less sun. The reason for the regional variation is that sunnier places can get more electricity per unit of system capacity than places with less sun. So solar panels are more efficient in, say, California, than they are in Seattle or Milwaukee.

But he expects that a continuing decrease in solar electricity costs will have the greatest effect in the northern, less sunny regions, because solar may not yet be the least expensive option there, and it would become the cheapest alternative, making projects more attractive to developers.

Nemet also anticipates benefits from providing access to electricity in poorer countries where power systems are not nearly as well-developed as they are here. Inexpensive solar power would increase access to electricity.
Terabase Energy is on a mission to drive down utility-scale solar power prices to less than $0.01 per kilowatt-hour by 2025, by using software, automation and modeling to optimize power-plant operation. The VC-funded startup just acquired another startup to help realize that goal.

Terabase's aggressive cost target far exceeds the U.S. DOE's SunShot 2030 goal of $0.03 per kWh for utility-scale photovoltaics by 2025. The DOE's most recent solar funding went toward hardware improvements in nonsilicon solar approaches such as perovskites, cadmium-telluride thin films and next-generation concentrated solar power. The DOE target cuts the cost of solar energy by 60% within the next 10 years.
But the 82% reduction in solar cost over the last decade (according to the International Renewable Energy Agency) came from economies of scale, better technology and supply chains at largely silicon-based solar plants, not the alternative technologies being funded by the DOE.

And even silicon module pricing might be nearing the bottom of the cost curve: "The era of ever-declining solar module prices is largely behind us," according to Yan Zhuang, president of Canadian Solar's manufacturing operation, as reported in pv magazine. Global commodities such as aluminum and glass are a larger part of the solar module bill of materials.

It's software, not hardware, that's going to drive down utility-scale solar costs, according to Terabase, a startup that closed a $6 million Series A round late last year and has already made a small acquisition to further develop its platform. Terabase just acquired REPlant Solutions, a spinout of First Solar that makes solar power plant controls and has developed a 1.5-kilovolt direct-current (DC) architecture and a DC trunk bus.

REPlant's plant controller operates the solar power plant, acting as the ringmaster in an increasingly complicated process.

Matt Campbell, Terabase CEO, tells Canary Media: "In the future…PV plants will become even more demanding, requiring sophisticated plant controls, the integration of storage, and hybridization with wind and other forms of generation." The acquisition of REPlant adds advanced supervisory control and data acquisition (SCADA) and other controls systems to Terabase's toolbox.

REPlant has an installed base of more than 10 gigawatts across 80 solar plants.

While solar hardware has gotten cheaper, soft costs are still stubborn and represent a more significant piece of the total project cost (a similar situation to the residential and commercial solar segments).

"We have to keep fighting to reduce the cost," said Campbell. "There's a big difference between solar at 1 cent per kWh versus 1.5 cents per kWh."

In an earlier interview, Campbell said that he wants to eliminate the construction mindset: "Utility-scale solar is more manufacturing than construction, with tens of thousands of identical units. It's not complex like a dam. It's just big. […] It needs to be managed like row-crop farming and more of a modern, integrated supply chain. Most projects are still managed on Excel spreadsheets."

The way to get to super-cheap solar, according to the CEO, is with smart software "across the whole life cycle" — from procurement, to oversight of construction, to operations — "all on a common interconnected digital platform."

Terabase recently provided digital and engineering services for the 800-megawatt Siraj-1 solar power plant in Qatar, which will sell its power for $0.01449/kWh. (These low utility-scale solar cost numbers tend to happen in global markets with lower labor costs than the U.S.)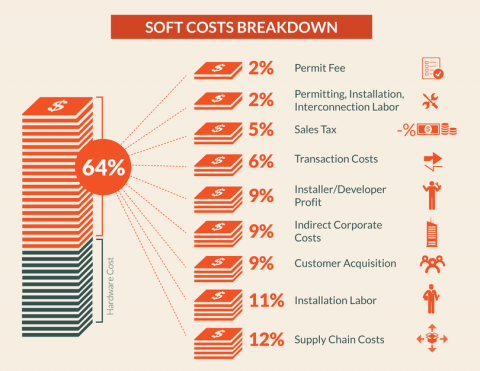 While studies show that increasing global production has reliably led to falling costs, non-hardware costs continue to add up, creating a barrier for many American families interested in solar energy. If we don't reduce these soft costs in the near future, solar won't be able to reach a tipping point and move beyond early adopters.
–
Because there are many jurisdictions, utilities, and differing state and local laws, there isn't a single process or system that businesses follow to get solar customers online. As a result, customers experience a lag time between when they buy a solar system and when it actually gets installed—a frustrating experience that also adds costs.