Despite Solar Minimum, 2020 Close to Record Warmth
June 13, 2020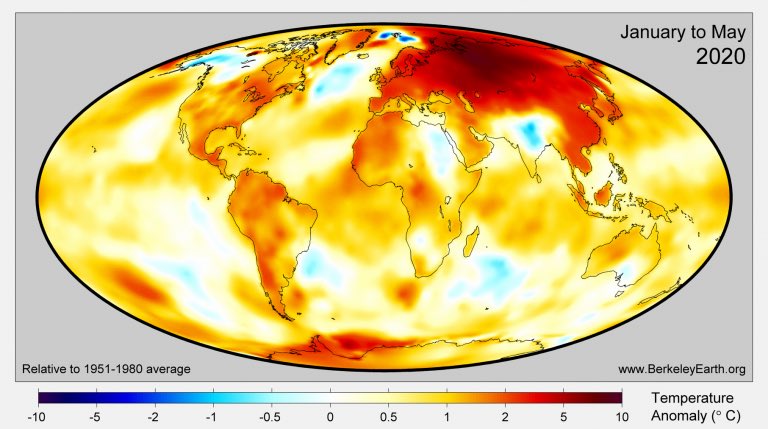 Favorite climate denial prediction of Global cooling yet to appear, even during the deepest trough of the dreaded "Solar Minimum".
Global temperature in May 2020 set a record for May (1.29°C, relative to 1880-1920) for the period of adequate data, i.e., since 1880. That is the third monthly record in the first five months of 2020, despite the fact that temperatures this year are not boosted by a strong El Nino.

2020 and 2016 will be the two warmest years, but which one will wear the crown? The answer is of little import – they will be close, likely a statistical dead heat – but in this Covid-19 year we need to have a little fun, and we can set the stage to learn something from the result.

2020 is a bit cooler than 2016 so far (graph above), but 2020 could pass 2016 to become the warmest year, because late 2016 was cooled by a La Niña (see May Update and graph above).

However, we suggested caution about confident predictions that 2020 would be the warmest year, because there is evidence that 2020 is also headed into a La Niña.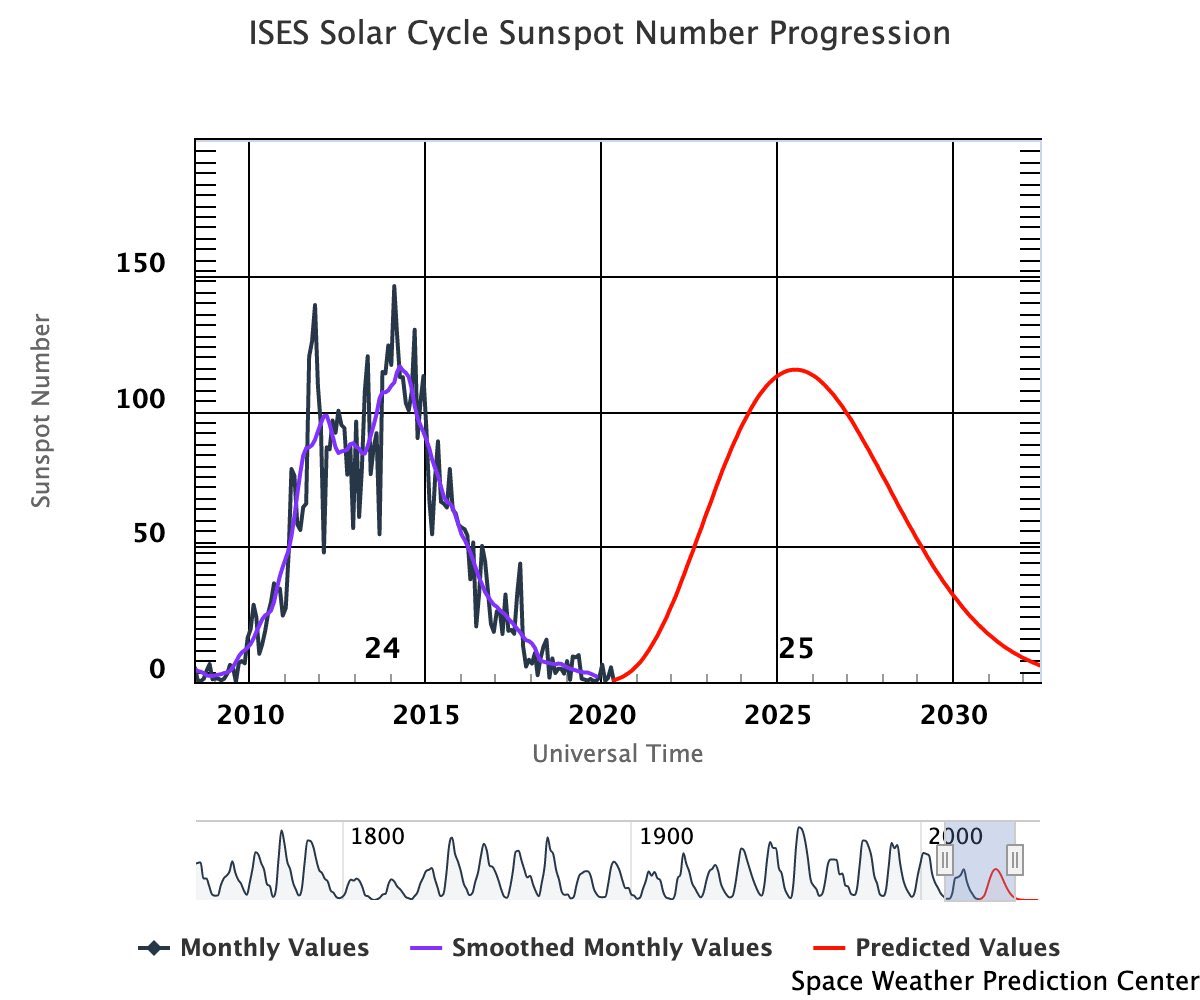 Solar minimum is not so grand I guess. Jan-May is 2nd warmest period on record and Berkeley Earth says the chance of 2020 being the warmest year on record is almost 90%.
Because we are normal people living in normal times, normal things are happening. Like news tabloids reporting that the Sun is in "lockdown", and that Earth is doomed to crazy weather famine and… earthquakes, for some reason.

Well, you can relax. Nothing the Sun is currently doing is going to create freezing weather, famine, or earthquakes. While humans are experiencing things that are decidedly not okay, the Sun is doing nothing unusual whatsoever.

What could be happening is a very normal period in the Sun's 11-year cycle; it's called solar minimum. And it's nothing to be afraid of – if you're reading this, chances are you've already lived through several solar minimums without even noticing.

Currently, we're in solar cycle 24. We don't know precisely when the next solar minimum will occur, but we can broadly predict it. Back in 2017, NASA noted that solar minimum was expected in 2019-2020.

In December of last year, the NOAA's Solar Cycle 25 Prediction Panel narrowed it down further, stating that "solar minimum between cycles 24 and 25 will occur in April, 2020 (+/- 6 months)."

So, we're either going through solar minimum already, or are just about to do so. Here's what that actually entails.

The solar cycle is based on the Sun's magnetic field, which flips around every 11 years, with its north and south magnetic poles switching places. It's not known what drives these cycles – recent research suggests it has to do with an 11.07-year planetary alignment – but the poles switch when the magnetic field is at its weakest, also known as solar minimum.
Because the Sun's magnetic field controls solar activity – sunspots, coronal mass ejections and solar flares – the cycle is detectable to us as that activity changes. During solar minimum, there are, well, minimal sunspots and flares.

This gradually changes as the Sun ramps up to solar maximum. The magnetic field grows stronger, and sunspot and flare activity increases, before subsiding again for the next solar minimum.

The solar cycles aren't generally noticeable here on Earth. We may see more aurora activity during solar maximum, since auroras are generated by solar activity. Increased solar activity can also affect radio communications, and navigation satellites. People closely observing the Sun will see more sunspots during solar maximum.

At solar minimum, solar ultraviolet radiation decreases, but the effect of this primarily hits the stratosphere and higher altitudes. It causes Earth's atmosphere to shrink slightly, which reduces drag on satellites. Conversely, the increase in UV radiation during solar maximum contributes to rainfall, but the effect on temperature is negligible.
There is also an increase in galactic cosmic rays from sources such as supernovae during solar minimum. Earth's atmosphere protects us surface-dwellers from this radiation, which can increase the risk of cancer, but at higher altitudes the radiation does pose an additional hazard to astronauts.