Oil's Crash: What's Next?
March 9, 2020
Twitter Thread from Gregory Brew – Brew is a PhD historian of oil, the Middle East, US foreign relations and Iran.
—
For all my non-oil peeps, an update: 

A few days ago, the big OPEC/Russia meeting ended without a deal to cut production. Now Russia and Saudi, the two biggest exporters, are saying they're going to maximize production and flood the market.

So why does this matter?

This move is a response to years of frustration: as OPEC/Russia have cut, they've lost market share to US shale, which has won a big piece of the market and turned the US into a major exporter for the first time in decades.

Saudi had led the charge to cut production. But this time, Russia wasn't having it. And now the Saudis have announced big discounts on their crude, particularly the stuff they sell to the US. It's essentially a declaration of war on US producers. Expect gas prices to plummet

US shale has changed the whole global oil picture. But companies are drowning in debt. The squeeze started late last year, as Wall Street started pressing firms to tighten up and impose some fiscal discipline. Folks expected in 2020 to see the pace of growth in the US patch slow.

But what we might see now is a bloodbath. Gas prices have been floating between $50-60 all year. Most companies can turn a profit at that level. But now prices are in the $40s, with the Saudi surge likely to send them into the $30s. The impact will be massive.

Uncertainty on the market, declining demand, high competition and low profitability is going to hit the domestic US industry hard. It wont kill it entirely, but it will certainly depress investment.

Economically, this could get very bad for Texas and North Dakota, where the oil and gas industry carries a lot of weight. Most companies are hedged, so even sweeping bankruptcies or defaults might not produce economic impacts—a shale bubble might not impact the broader US economy

Low gas prices are usually a plus. But for Trump, this could take the wind out of the whole "energy dominance" thing. The broader economic impact might be worse than some expect.

But what this really shows is the Russian determination to win back some territory on the global oil market—and their willingness to do this, however it might impact the US economy. And Saudi followed suit almost immediately

It's a price war—what happens in global oil when cooperation breaks down and competition becomes cut-throat.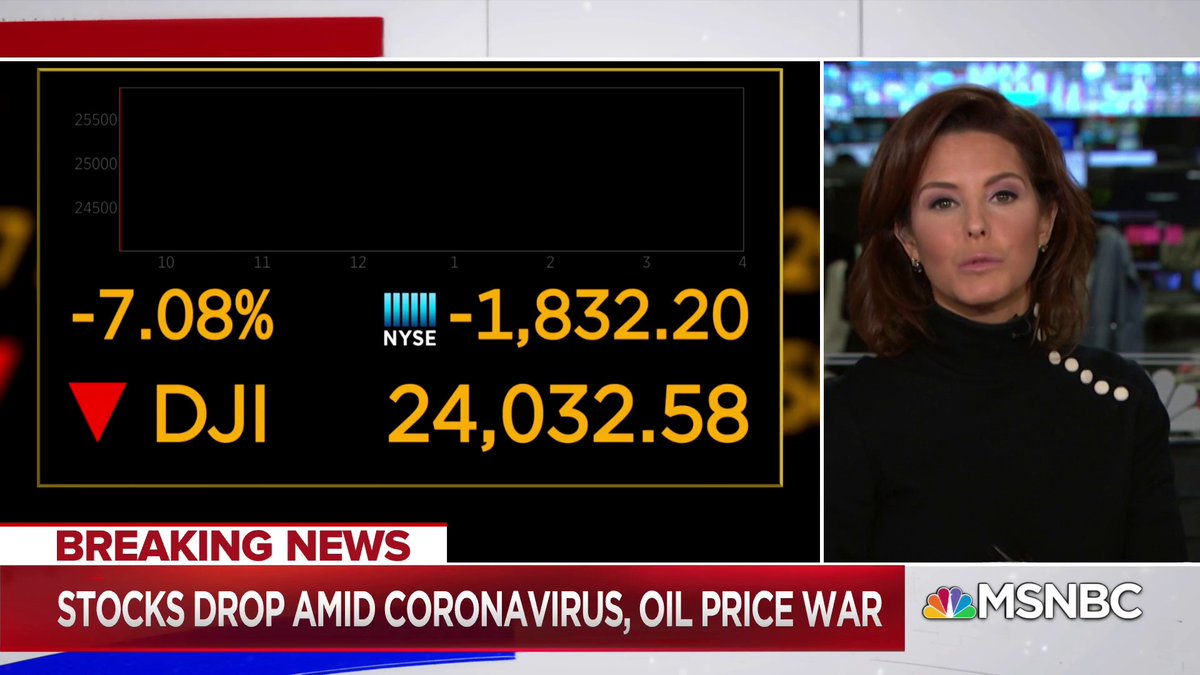 Markets shuddered Monday in the face of a price war for oil and the economic fallout from the coronavirus outbreak, with frightened investors seeking shelter in the safety of government bonds and propelling yields to unprecedented lows.

Futures tied to the Dow Jones Industrial Average retreated 4.9%, pointing to a decline of over 1,200 points in the blue-chips gauge after trading opens in New York. The futures contracts earlier hit the 5% maximum allowed in a single session, breaching the limit for the first time since shortly after President Trump's 2016 election victory.

Saudi Arabia's decision over the weekend to instigate a price war as it escalates a clash with Russia sent oil prices down by the most since the Gulf War in January 1991. Crude prices, along with U.S. government bond yields, are typically viewed as key barometers of economic health and confidence, said Gregory Perdon, co-chief investment officer at private bankers Arbuthnot Latham.

"There has always been an assumption that when the oil price collapses the world is going to become a darker place, whether that is driven by the demand side or supply side," Mr. Perdon said. The latest tensions put the oil market in somewhat uncharted territory with pressure in terms of both supply and demand as the coronavirus epidemic threatens to sap businesses' appetite for energy.

The plunge in crude added to two weeks of turmoil in equity and credit markets as investors have grown increasingly concerned about economic growth stalling. It also raised fresh concerns about the risks tied to heavily indebted energy companies in the high-yield market, and the fallout for other companies if broader credit markets tighten.

U.S. government bonds, which have already rallied to unprecedented highs, extended gains. The yield on the 10-year Treasury, which moves inversely to bond prices, dropped to 0.431%. The 30-year yield fell below 1%, reaching 0.866%.

The Federal Reserve Bank of New York said Monday it will increase the amount of very short-term loans it has been offering to money markets amid the widening market rout. The move underscores the growing concerns about funding constraints and liquidity.

"The fear today is about a global recession," said Thomas Hayes, chairman of Great Hill Capital, a hedge fund-management firm based in New York. "If Russia does not come back to the table soon, investors worry the default risk and credit spreads widening will lead to tighter credit and even a recession."

Public-health authorities are escalating efforts to contain the coronavirus outbreak, leading to a drop in business activity and curtailing global trade. The number of confirmed coronavirus cases has exceeded 110,000, with over 3,800 fatalities globally. At least eight American states including New York have declared states of emergency as infections spread to new parts of the U.S., and Italy quarantined some 17 million people.