Trump's Favorite Coal Baron Going Under
October 3, 2019
You've probably seen Coal Baron Bob Murray on TV railing against climate science, demanding a coal bailout,  and extolling the brilliance of the Trump administration.
Above, John Oliver recounts his own amusing legal run-in with Murray, who typically sports a movie-villain-worthy oxygen tank as a prop while plotting to poison the atmosphere.
Murray Energy Corp., the U.S. coal giant that had pressed the Trump administration for help averting bankruptcy, may be headed toward default.

The largest closely held coal miner in America failed to make multiple payments to lenders this week, the company said in a statement on Wednesday. Creditors have agreed not to take legal action until Oct. 14, buying Murray some time to figure out how to shore up its balance sheet, the St. Clairsville, Ohio-based firm said.

Murray Energy is struggling to stay afloat, along with the rest of America's coal miners, as cheap natural gas and renewable energy resources cut into coal's share of the U.S. power market. At least four companies including Cloud Peak Energy Inc. and Blackjewel LLC have gone bankrupt this year, laying bare the decline of a fuel that once accounted for more than half of all U.S. power generation. Today it's less than 25%.

The White House didn't respond to a request for comment. The administration has considered other proposals to aid coal plants since, including one that would've had the Energy Department use its emergency authority to order grid operators to buy power from coal generators. But U.S. Energy Secretary Rick Perry said in June that there had been no movement on a plan.

The company's 2024 notes with about $500 million outstanding traded at 1 cent on the dollar last month, down from above 60 cents late last year, according to Trace price data.

On Tuesday, U.S. coal miner Foresight Energy LP failed to make its own interest payment, invoking a 30-day grace period to evaluate options. The shares slid 26% on the news to a record low. Murray and Foresight are inextricably linked: Murray bought a controlling stake in the St. Louis, Missouri-based company that hasn't posted an annual profit since 2014.

While America's biggest publicly traded coal miners, including Peabody Energy Corp., filed for bankruptcy in recent years, Murray chose to avoid that route. It has left the company at a potential disadvantage as it wrestles with how to manage its debt as opposed to investing money in its business, according to credit raters.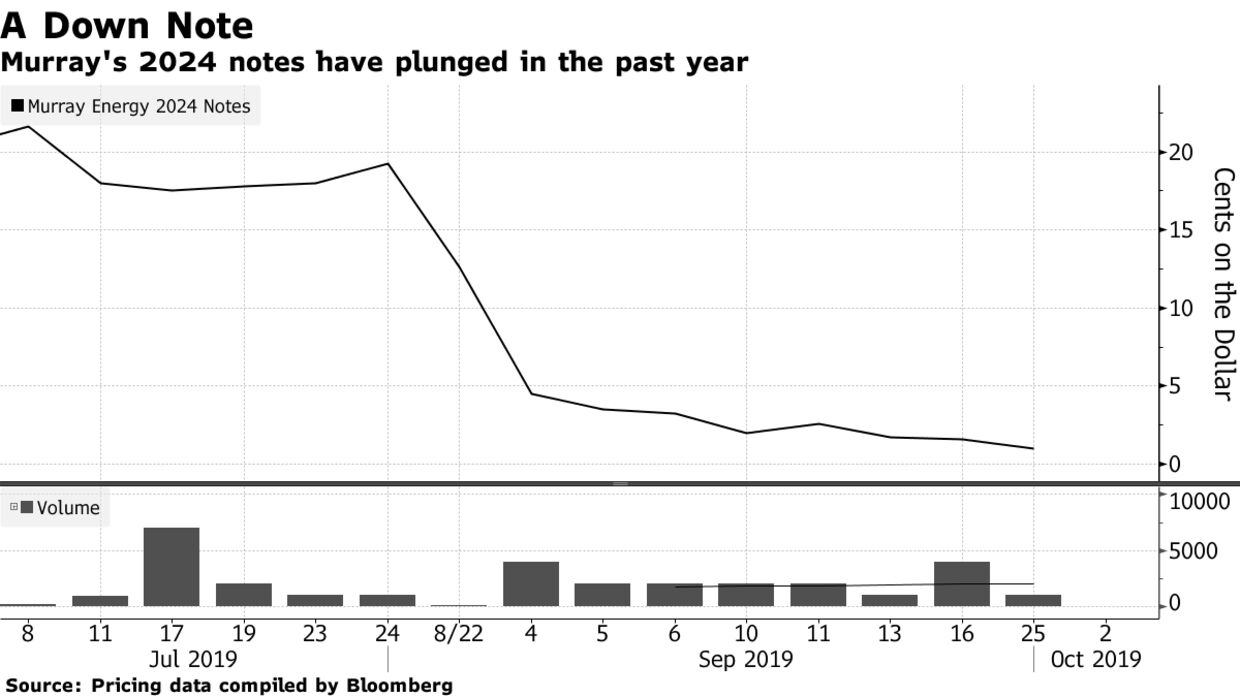 Murray's forbearance agreements are with lenders holding more than 50% of Murray's loans under a credit and guaranty agreement and those holding more than half of loans under ABL and FILO credit facilities, according to the company's statement.

Murray's efforts to improve its liquidity will prove challenging as it runs up against a heavy debt load and an industry in secular decline, according to Moody's Investors Service. U.S. power plants are turning away from coal and toward cleaner and cheaper alternatives and export markets are also under pressure, Moody's said.

The company has tried to ease the strain before through deals with creditors, including a 2018 debt swap that gave holders 74 cents on the dollar and extended the due date by a year on some term loans. Moody's labeled that agreement a default.
The data shows that both self-identified Democrats and Republicans support the idea of the nation transitioning toward renewable sources of energy. Solar and wind power were the top two preferred alternative energy sources among both groups of respondents, while coal was ranked dead last.

Insider's results align with other polling data on renewable energy. A Gallup poll from March found that Americans overwhelmingly favor expanding the production of green energy sources, particularly solar and wind. Around half also said they believed there should be less emphasis on coal power.

The use of renewable energy sources like wind and solar power has doubled in the last decade, according to the US Energy Information Administration, and federal and state policies combined with the declining cost of production drove much of the growth.

Natural gas, which is a cleaner-burning fossil fuel, overtook coal as the nation's top source of electricity in 2016, highlighting the energy transition currently underway in the United States.
The winds of change are sweeping through Texas, with wind power surpassing coal for the first time in history as a primary energy source.

Wind generated 22 percent of the Lone Star State's energy needs, according to a report released last week by the Electrical Reliability Council of Texas, which manages the flow of electricity to more than 25 million people, accounting for 90 percent of the state's energy needs.

Wind edged out coal, which provided 21 percent of the state's power, according to the company.

In 2003, wind made up just 0.8 percent of total energy needs in Texas, and coal was responsible for 40 percent, ERCOT documents show.

Despite the dramatic rise of wind power, natural gas remains the state's primary fuel, generating 44 percent of its power last year.

Although wind power accounts for just under seven percent of the country's energy production, it is expected to be among the fastest rising source of electricity — along with solar power — in the next two years, according to the Energy Information Administration.