Are Natural Gas Wells Huge Methane Sources?
April 16, 2014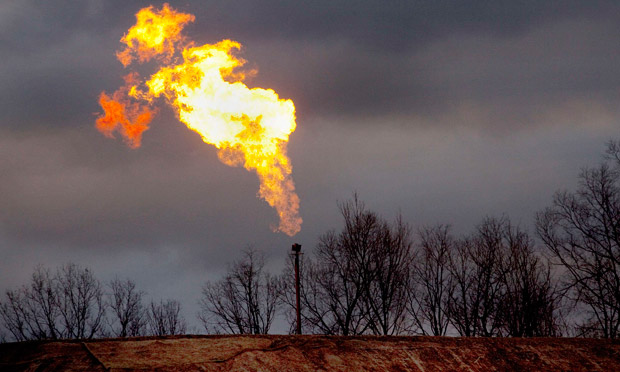 Neela Banerjee in the LATimes;
Drilling operations at several natural gas wells in southwestern Pennsylvania released methane into the atmosphere at rates that were 100 to 1,000 times greater than federal regulators had estimated, new research shows.

Using a plane that was specially equipped to measure greenhouse gas emissions in the air, scientists found that drilling activities at seven well pads in the booming Marcellus shale formation emitted 34 grams of methane per second, on average. The Environmental Protection Agency has estimated that such drilling releases between 0.04 grams and 0.30 grams of methane per second.

The study, published Monday in the Proceedings of the National Academy of Sciences, adds to a growing body of research that suggests the EPA is gravely underestimating methane emissions from oil and gas operations. The agency is expected to issue its own analysis of methane emissions from the oil and gas sector as early as Tuesday, which will give outside experts a chance to assess how well regulators understand the problem.
Researchers flew their plane about a kilometer above a 2,800 square kilometer area in southwestern Pennsylvania that included several active natural gas wells. Over a two-day period in June 2012, they detected 2 grams to 14 grams of methane per second per square kilometer over the entire area. The EPA's estimate for the area is 2.3 grams to 4.6 grams of methane per second per square kilometer.

Since their upper-end measurements were so much higher than the EPA's estimates, the researchers attempted to follow the methane plumes back to their sources, said Paul Shepson, an atmospheric chemist at Purdue University who helped lead the study. In some cases, they were able to quantify emissions from individual wells.

The researchers determined that the wells leaking the most methane were in the drilling phase, a period that has not been known for high emissions. Experts had thought that methane was more likely to be released during subsequent phases of production, including hydraulic fracturing, well completion or transport through pipelines.

The airborne readings were a snapshot over two days, Shepson cautioned, and further research over a longer period and at other sites are needed to know whether the Pennsylvania measurements are typical.
That makes the federal government's next steps on methane all the more pivotal. The EPA has rules coming into effect in 2015 that will govern new fracking sites. The so-called "green completion" rules will require operators beginning in January 2015 to capture methane that they have until now been flaring during the flowback phase. These rules are already likely leading to lower emissions as companies begin to comply with the rules ahead of next year's deadline. The White House is considering further action on methane, which would target other places along the supply chain, and has instructed EPA to study the matter. The Obama administration will decide later this year if it wants to pursue tougher regulation. (Related Article: White House Targets Methane Emissions)

But the Purdue/Cornell study also suggests that the EPA does not have even the basic data from which to regulate. If methane emissions are escaping at a rate that deviates sharply from what EPA believes, forthcoming rules may not be appropriately calibrated. However, with the White House directing the EPA to study the matter more closely, it is possible that it also comes to the conclusion that methane is leaking into the atmosphere at a higher rate than it previously thought. If that occurs, it would be more likely that the Obama administration decides to take tougher action on methane before the President's term is up in late 2016.